HT18 1.8T Mini Excavator
Yanmar engine, Double speed, Retractable shoes,Boom swing, Tailless rotation
HT18 1.8T Mini Excavator Feature:
1. The easy operation and convenient operation device are in line with the new generation human engineering working environment.
2. The engine has the features of strong power, low noise, low emission, low fuel consumption, and convenient maintenance etc. Its performance, noise, emissions are all up to the highest level in Europe.
3. The strengthened crawler enhances the wear resistance of the track effectively and prolongs the service life of the track at the same time.
4. Reasonable hydraulic layout greatly facilitates the inspection and maintenance of hydraulic system.
5. The precise instrument is the intelligent monitoring housekeeper of the excavator.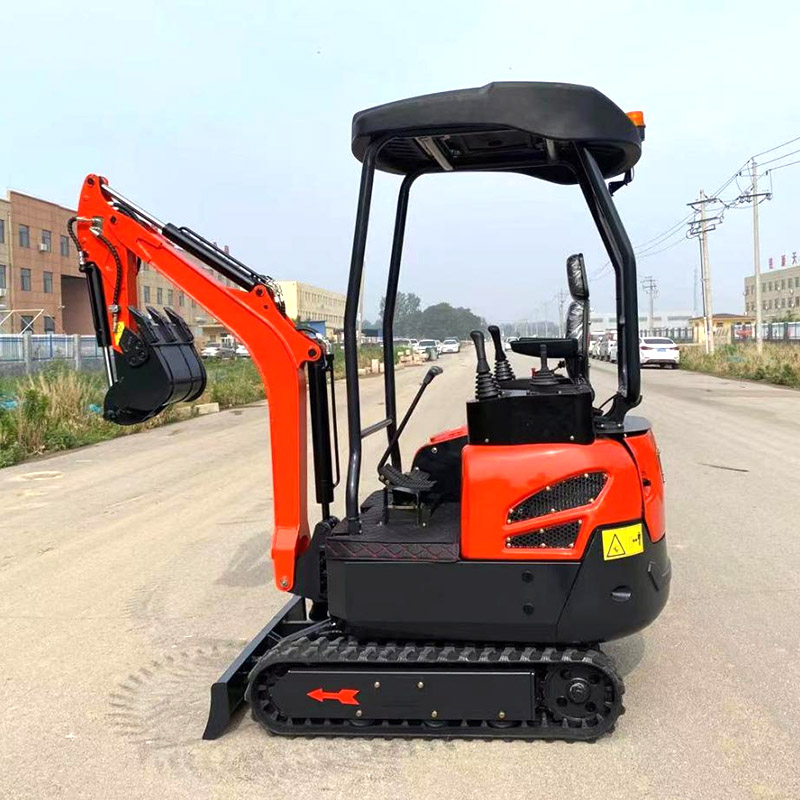 HT18 1800kg Mini Excavator Advantages :
1. Imported famous brand engine and hydraulic system with global warranty
2. Self produced working equipment, upper carriage and under carriage , heat treatment with high rigidity
3. Smooth working performance with high efficiency
4. Competitive price with high reliability
5. Real warranty supplied by original manufacturer
6. More than 10 years experiences
HT18 1.8T Mini Excavator Parameter
ENGINE

Emission Standard

Tier 5/ Stage V

Make

Laidong/ Kubota

Model

385/ D722

Power /Rotation speed

18.2KW/10.2kw14HP)2500rpm

Number of cylinder

3

TRACK SYSTEM

Maximum Travel speed

4km/h

Width of track shoe

230mm

Number of track shoe per side

38pcs

Number of upper roller per side

1

Number of bottom roller per side

3

PERFORMANCE PARAMETER

Standard Bucket capacity

0.03m³

Swing speed

9 rpm

Max. Grade ability

35°

Maximum Bucket digging force

18KN

Maximum Arm digging force

11KN

Hydraulic system pressure

18.2Mpa

Machine weight

1650kg

MACHINE SIZE

Overall dimension (L*W*H)

2550*1100/1400*2310mm

Wheel base

1100mm

Chassis width

1100mm

Axle base(Track length on ground)

1300mm

Track width

180mm

Min.Ground clearance

380mm

WORKING RANGE

Maximum Digging height

27400mm

Maximum Dumping height

2100mm

Maximum Digging depth

2150mm

Maximum Vertical digging depth

2320mm

Maximum Digging radius

2400mm

Minimum swing radius

1190mm

Maximum Lifting height of blade

325mm

Maximum Cutting depth of blade

175mm

Boom swing angle(Left)

75°

Boom swing angle(Right)

45°